The Hiring Process: A Comprehensive Guide
Many people are surprised by how long the hiring process actually takes. From start to finish, it can take around 42 days to fill a position. And in certain industries, it can take even longer. According to a LinkedIn study, engineering jobs take an average of 49 days to fill. The shortest average time to hire a candidate is within the administration field – this takes a median of 33 days.
So why does it take so long to find the right candidate? Part of this is because there are many steps to the hiring process. And if you're unfamiliar with these steps, or don't have local connections, it can take a while to hire someone. We've explored the hiring process in more detail below:
1. Identify a Vacant Role
The first step when it comes to hiring a candidate is realising you need a role filling! Perhaps there is too much work for your current team, you're looking to expand the business, or a member of staff is leaving. Whatever the reason, once you identify this need, you should start thinking about what the role would entail.
2. Write a Job Description
The second part of the hiring process is to write down lists of the responsibilities a candidate would have in the role, as well as the qualifications they'd need. With the latter list, it's best to have two sections – required skills, and desired ones.
Your job description should additionally discuss your business and the company culture, as well as include details of the salary and benefits on offer. The location of your offices and whether flexible working arrangements are available should also be included.
3. Advertise the Role
You don't necessarily have to advertise the role externally at first – you can begin by asking your current staff whether they'd be interested in the position. This may be all the advertising you need to do, though bear in mind that you may have to fill the candidate's previous position if you hire internally!
When promoting the job externally, this will usually be across a number of different platforms. You'll probably post the role on your company's website, as well as on job boards and social media platforms like LinkedIn. You may even post the job in the local newspaper. One of the best ways to hire someone though is via recommendations – ask your staff if they can refer a friend or family member who would be well suited for the position.
4. Review the Applications
If you work for a larger business, you may have automated systems in place to initially review applications. Generally speaking though, all applications will go through the HR department or hiring manager. They can eliminate candidates that don't meet the minimum requirements, and then decide, from the applications that remain, who they want to interview.
Setting up the interviews can be a big undertaking on its own – you have to work around lots of schedules! Contacting the applicants may also act as an initial screening process – how someone conducts themselves over the phone can indicate whether they're suitable for the role or not.
5. Conduct Interviews
For some roles, one interview with a candidate will be enough. But for more specialised jobs, you may need to conduct a few interviews, and perhaps ask the applicant to create a presentation. You'll also need to consider whether you interview the candidate one-on-one or as part of a hiring committee.
During the interview itself, there are a number of common interview questions you could ask, as well as questions that are specific to the job. You should focus on the work history, experience, and skills of the applicant. It's also essential to consider whether they'd be a good fit for the company culture.
Another thing you may wish to include as part of your interview process is standardised testing. These tests measure a large number of variables, from personality traits to a person's problem solving ability.
6. Background and Reference Checks
Once you've interviewed your applicants, it's time to conduct a few checks! These checks should include a background check, which might review an applicant's criminal record, verify previous employment, and run a credit check.
Some companies may also look at a candidate's social media accounts, such as Twitter and Facebook, to ensure that they'd be representing the business in a professional manner, even outside of work.
Before hiring someone, you'll also need to check their references. This will include enquiring about their previous responsibilities, job performance, and overall workplace conduct. A common question to ask the candidate's last employer is whether they'd rehire them.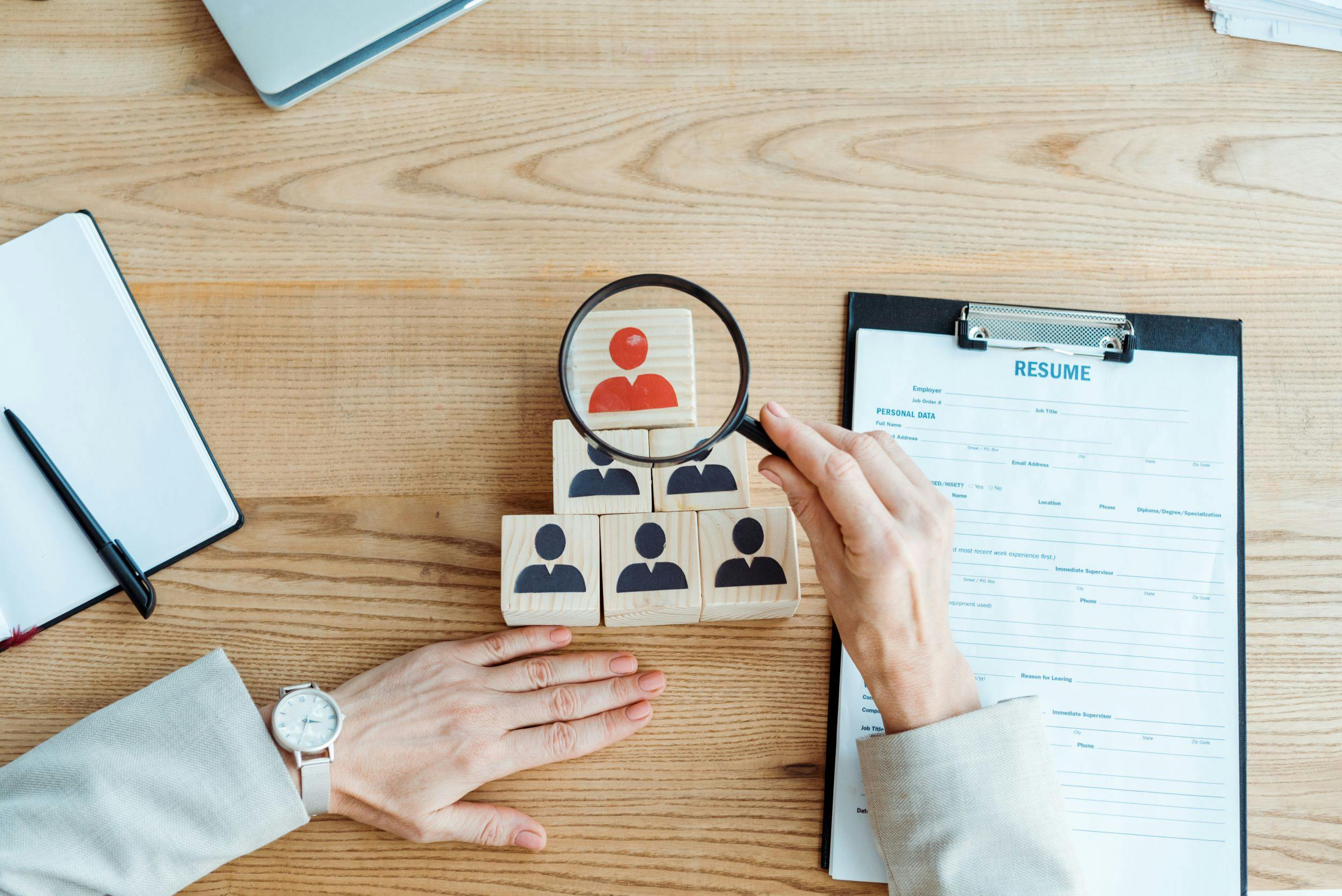 7. Hire the Candidate
When you've chosen a candidate, you will need to extend an official offer of employment, letting them know things like the role's salary, start date, benefits package, and any other terms and conditions. At this point, the employer and new employee may negotiate over a few things, such as salary and a flexible working schedule.
Once the candidate has accepted the job offer, you'll need to ensure that all the required paperwork is completed, and you ask for copies of their passport and P45. You should also provide the individual with an employee handbook, and any relevant process manuals.
8. Onboarding Process
Finally, you've reached the onboarding process, which is where you welcome the new employee to the company, and help them integrate into the culture. The idea is to start building a long-term productive relationship between you and the individual. This could include a welcome letter, showing them around the office, and perhaps pairing them with a mentor.
It's important to ensure that the new hire has a clear understanding of what their role entails, and what's expected of them in the long term. This should be outlined in their contract, but it's always good to run through these things in person, to avoid misunderstandings later down the line!